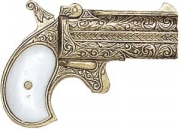 Click Here To See Details and Product Options
Derringer Deluxe Gold, Non Firing
SKU: 22-1262L

1866 Double Barrel Derringer-Non Firing: Designed by William Elliot of Remington this famous 40.41 caliber, two shot, single action pistol was manufactured for over 70 years. Hinged barrels swing upward for easy reloading. This Old West collectible has engraved barrels and plastic grips.Length 4....

---
Our price: $64.00